Control Configuration panel
The Control Configuration Panel allows you to add presets to your camera. Presets are predetermined camera angles. 

To add a preset direct your camera to the desired location. Using the "Preset Management" boxes select a Preset and name it. 
Now go to the Video Configuration Panel tab and click "Update Presets" you should now see the presets in the drop down box.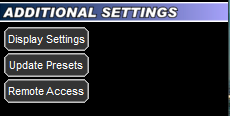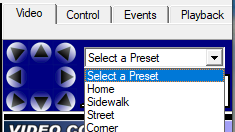 Here you are able to adjust the focus level of the camera. By clicking "Auto" it sets the image back to the defaults. 
Under "Presets & Touring" you can set the camera to go to a Preset automatically after a specified period of time. This may be beneficial if someone is looking at the area around the camera but forgets to set the camera back to its original placement.  This is also a useful feature if you set Regions of Interest in Motion Detection so the camera always goes back to the Region of Interest you previously setup. 
The last option is "Preset Touring". This is where you can have multiple presets be viewed at rotating times.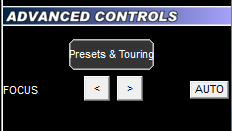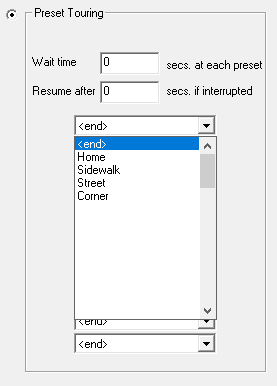 If a camera has a special command, one that ViewCommander doesn't have, you can add the command here by referring to the camera's API documentation. 
(In the ProAdvanced Version only)